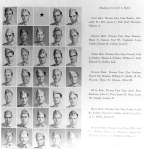 Click Picture for larger view
Here's the picture of James (2nd from left, top row) and Reid Bell (2nd from right, top row) in 1941 at Camp Blanding. The only pictures I have at Blanding are the sheets of E Company. Note James Bell next to Reid
and there was also an officer named Bell. Can't say for sure that I recall
any of them but I do remember the name.