Word War II Memorial dedicated
Opened on April 29, 2004. Dedicated May 29, 2004.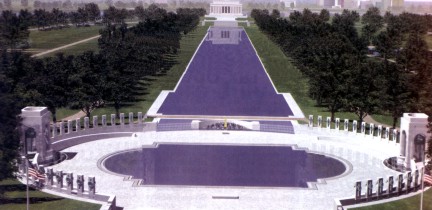 Artist's Rendering of The Memorial Plaza
The first national memorial for the 16 million in the armed forces along with the 400,000 who died in World War II. Is at the Rainbow Pool site at the east end of the Reflecting Pool between the Lincoln Memorial and the Washington Monument on a 7.4 acre site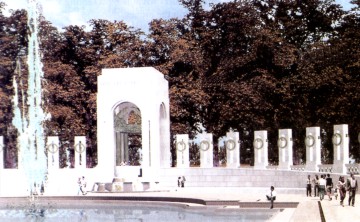 Artist's Rendering of The Arches
Senator Bob Dole is the national chairman of the 100 million dollar World War Two Memorial Campaign. "Perhaps because its causes were so just and its victory so complete, few of us today recall the unfinished business of World War II. Like so many others, I paid a high price in that war, but it was minimal compared with the ultimate price paid by the more than 400,000 Americans who never came home. Like so many other veterans of that conflict, I did not question the reason for my sacrifice. But America has yet to recognize the men and women who gave so much to make final victory possible. Now is the time to honor them with a national monument to preserve their memory for future generations," said Senator Dole.
"But it was not yesterday; it was half a century ago. And in another 50 years, on another Veterans Day anniversary, there will be no one left who heard those voices. It is important that we remember the voices and deeds of those young men and women who liberated whole continents from tyranny and who willingly died for a future they would never see," Dole added.
There is a World War Two Registry of Remembrances that will hold the names of individual Americans who participated in the war effort. The Registry will be on permanent display in Washington. Anyone who served in the armed forces during WWII or any civilian who helped on the home front, is eligible for the Registry. To register yourself or a member of your family click here:
http://www.wwiimemorial.com/registry/edit/donor_nameaddr.asp
or write:
American Battle Monuments Commission
P.O. Box 96766
Washington, DC 20090-6766
or call at (800)639-4WW2
or
http://www.wwiimemorial.com

Send Corrections, additions, and input to:
WebMaster/Editor