"Luck of the draw..."

"The Invasion of Saipan June 15, 1944"
An Audio Remembrance by Richard E. Salisbury


US Tank from WWII still off shore on Saipan
Image thanks to Jane RestureJane RestureJane
Click the image for larger view
Following the Japanese attack on Pearl Harbor, America was at war. A patriotic college freshman joins the Army Enlisted Reserve Corps in 1943 and is trained as a General Sherman Tank Driver.
This is his own story, shared for the first time, regarding how the "luck of the draw" put him into one of the original Army units trained to operate the new Landing Vehicle Tracked (LVT-AMTRAC) designed to invade enemy beachheads, and penetrate beyond, making aggressive amphibious landings against hostile defenses.

It is a riveting story of a young soldier's experience participating in the first wave of marines to go ashore during the invasion of Saipan, June 15, 1944, with the 4th Marine Division. The victory of Saipan was considered the crucial turning point to winning the war in the Pacific.

Richard E. Salisbury received a Navy Presidential Unit Citation and later declined an offer to attend the West Point Military Academy - returning instead to the University of Cincinnati where he graduated in 1948. He joined a Chicago-based steel company while also gaining an MBA in 1953 from the University of Chicago.

Married in 1958, Richard and his wife Esther, had two children, William and Jane. He retired after a successful business career and moved in 1995 with his wife to Naples, Florida. Richard died on December 7, 2011. Above photo taken in 1944, age 21, in Oahu Hawaii upon his return from Saipan.




This is Richard Salisbury speaking about Saipan. Recorded at Countryside Country Club, Naples Florida on January 8, 2004, Richard gives his account of that day in history.
click here to Play the Audio
The audio controls will open another window to control so you can switch back to here to view the maps (below)
| | | |
| --- | --- | --- |
| | A Typical LVT lsanding on beach | |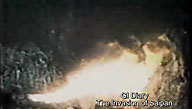 An 8 minute video about Frogmen & Saipan. Click the image
Richard Salisbury audio and his images copyright 2013. All rights reserved.
Jim Pancero, Inc. 800-526-0074