Well, folks, as you seem to be entertained by my army career, I will continue where I left off with a Birds Eye View.
I had many interesting experiences in my time at sea, too many to mention, like submarine scares, dodging bombs and mine fields etc. but the funniest to me now is when we challenged what we thought was a Japanese raider in the South Pacific. Our lookout spotted a ship on the horizon and we were called to action stations. Imagine a cargo ship with only two 50 calibre Browning machine guns, two 20mm Oerlikon machine cannon and a World War I, US 4" naval gun challenging a ship which, even at that distance, was obviously much bigger than we were. As it got closer, we could tell it was a cruiser with eight 8" guns and God knows, how many smaller calibre guns but we couldn't make out the nationality. Thank God, it was a US ship. They wished us good luck and carried on their way hunting Japs. When I think back now it seems funny but at the time it was deadly serious.

Redford Cavalry Barracks, Home of the Black Watch Pipes and Drums during the Edinburgh Royal Tribute 2000 and the Edinburgh Tattoo 2000. Picture courtesy Black Watch Pipes and Drums

After my service in the maritime, things quieted down. When they wanted volunteers for the Airborne, I volunteered and became a paratrooper. I went through the tough training, fairly easily as I had already done my P.T. instructor's course at Redford Barracks in Edinburgh.

On the day the war in Europe ended we were sent to Norway to search for SS men and other
undesirables. We also freed the Russians in a
big POW camp. When we were at Stavanger airport, we had a bit of fun as the Jerries (Germans) had left a lot of small motorcycles there, so we filled them with high octane aviation fuel and zoomed around the airfield until the exhausts melted, working our way through all of them until eventually they were all burnt out.

| | |
| --- | --- |
| From Stavanger we went by jeep over the mountains then south to a town called Arendahl. It was a beautiful scenic journey and one I will never forget. We were billeted in a large hotel, where the King of Norway sometimes stayed. Since there were not many of us there at the time, we sometimes became bored and tired. We had a soccer match "England v Norway" which I was part of. The final score was 2 - 2. During my time in the Maritime I spent nearly two years on a Norwegian ship so I understood a bit of Norwegian. I think they are lovely people and I wish I could have spent longer there but unfortunately I made a big mistake which I became ashamed of . . . and still am to this day. | |
I was sent on a guard detail with four men to look after a building which was really a storehouse for rare wines, brandies, Art and Artifacts which the Germans had collected for themselves. Well, sending soldiers into a place like that was simply asking for trouble! We started to sample some of the wines and liquors and the inevitable happened. We all got sozzled (drunk!) and as I was the guard commander it was my fault.
taken at Ron Rowley's house in the summer of 1999 - he lives in Carlisle which is NorthWest England. Joe is from North East England. They try to visit each other at least once a year.Click the image for a larger view

When we got back to our billets in the hotel, we used the lift (elevator.) It was a novelty to use a lift and considering the state we were in, we got carried away and wouldn't let anybody else get in. To make things worse the C.O. wanted to use the lift which was now occupied by five drunken squaddies (slang word we British soldiers call each other)! After they got us out, all I can remember is the CO's voice saying "I'll see you in the morning."

Next morning I was up in front of him and said how sorry I was. He said "I know how sorry you are but I still have to punish you - you know that. You have two choices, either to be sent to Oslo to the Glasshouse (Army prison) or they want NCOs to go to the Far East to form an independent parachute brigade." As I didn't fancy the Glasshouse, the next day found me on my way back to Bulford near Salisbury (England) for training with a new battery. After two or three weeks I was on a troopship from Liverpool bound for the Far East. It was a route I had been on before but this time we went through the Mediterranean, then the Suez Canal through the Red Sea to Aden where I had the bad experience with the box kite (see Birds Eye View.)
Halfway between Aden and Bombay we were told that the Japs had thrown in the towel so we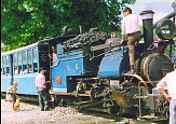 carried on to Bombay. During our stay in a transit camp at a place called Kalyan just outside Bombay, we were visited by the Minister of War, Jack Lawson, who happened to be my local Member of Parliament, an ex-miner, who I knew well. After about a month, we left Bombay by train over Northern India to Calcutta, which was the worst train journey in the world, we were packed in like sardines on utility wooden seats.
The infamous Changi Jail, Singapore

now.

Picture coutesy The Changi Museum

After another few days we were on a trooper (troopship) to Singapore. We were billeted in Changi Barracks near the infamous Changi jail. The balcony of my room overlooked the graves of some Australian nurses who had been badly treated by the Japanese.

Later I was sent as a guard to the Number 4 gate, the main outgoing dock gate and while there I stopped an Indian soldier who was a sergeant in civilian clothes. While searching
him, I found what looked like a slab of toffee approximately 9" long 3" wide and 1" deep. I had no idea what it was but my interpreter, who was a young Malayan, knew exactly what it was. He said it was opium and he showed me his thumb nail explaining with that amount of Opium you could make love for a week! I sent the Indian under escort to the MP's and never found out what happened until two months later when I was in Java.
Joe and Ron Rowley during reunion. Ron served with Joe in Java as part of the 4th Air Landing Brigade Click the image for a larger view

The troops out there used to get a monthly magazine called S.E.A.C. filled with odd bits of news from that area. One article caught my eye of how the MP's in Singapore caught a man with a stash of Opium and were rewarded and highly recommended for their work!

While serving in Java ( mopping up the Japs who were training the locals to fight against the Dutch, for their independence) we were involved in a small battle called Gombal Hill which involved taking a small howitzer gun to the top and firing a few rounds in the enclosure which was being used by the Japanese and their terrorist friends which lasted a few days and then we returned to Singapore. On the way back I had another rotten job. Even at this late stage, men were still cracking up and two men in the brigade went nuts. Four others and I had to look after them.
When I got back to Kangkar-Kahang in Malaya even though there was trouble brewing with the Commies (Communists) my tour of duty had ended and I spent a week or two waiting for a ship back to England. I returned on the Winchester Castle, a luxury liner and had a great time. During the

The Winchester Castle.
http://shiplover2.virtualave.net/

Sorry, link is no longer there
voyage it was rumoured that the MP's were searching kit bags for souvenirs so I decided to get rid of my acquired Walther P38 not wanting to get into anymore trouble and much to my disgust on landing at Southampton we never even got searched! After leaving Southampton, I had a couple of days in Reading and then off to York for demob.

It was only then that I found out that my choice of punishment for the lift escapade in Norway could have cost me my life. We had found out that the task for the independent parachute brigade we had newly formed was a drop on Sumatra with expected 60% casualties and I count my blessings that the Americans dropped the bomb when they did as I am certain it prolonged my life as well as many others and enabled me to have a good life and family.

Read Joe's A Bird's Eye View