"A Bloody New Yank Plane"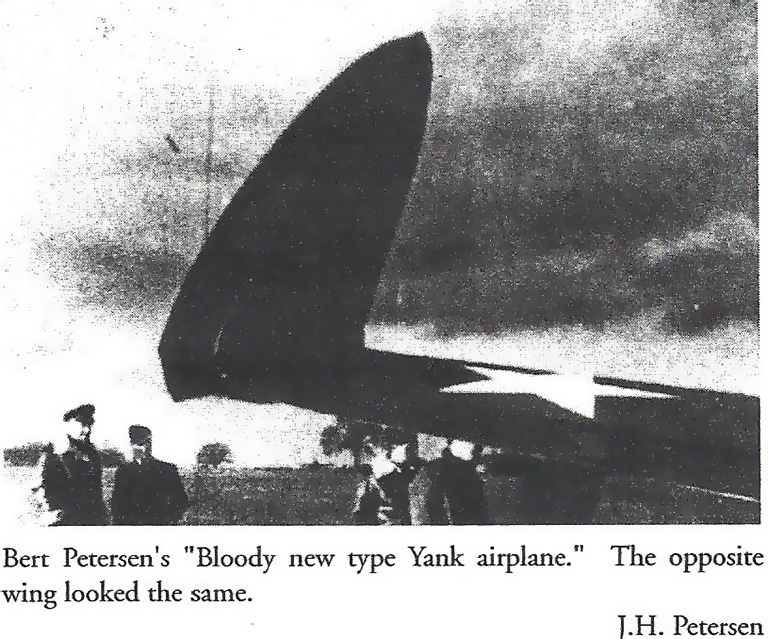 Actual photo of one of the bent wings.

Can you make a Gooney Bird look like a Corsair? 2nd Lt. Julius H. Peterson did! Here is his story direct from his own pdf report.
2nd Lieutenant Julius H. Petersen
Pilot, 43rd Troop Carrier Squadron

We had already flown 3,000 miles when we finally reached Prestwick, Scotland. on December 12, 1942. We then were given two days off to rest. Our last hop to Aldermaston was going to be a walk in the clover after our long-haul over the North Atlantic during early winter.

I was flying left seat, and Sig Matson was my co-pilot. We were good friends, even though he outranked me, and we had always taken turns in the left seat. In addition to my navigator and radioman, we had eight passengers and a ton of equipment. The ceiling was overcast and high, with scattered cloud at 1,000 feet. The first leg over water to the Isle of Man was a breeze. As we turned east toward the coast of northern Wales, the low level cloud increased. My navigator, Woodrow White, told me that we still had altitude over the Berwyn Hills in the area.
We were at 1:900 feet when we entered another thick cloud layer. We lost sighr of the lead aircraft. Mushing through the douds, I was astonished to see green trees emerge from the gray douds coming straight at us. I yanked back the yoke, and slipped the bird into a right turn when the right wing thumped against a hill top. I immediately turned to the left, and experienced the same.

Everything happened very fast. The bird was starting to stall, but fortunately, the peaks were already behind us. I put the nose down to pick up speed, and managed not to hit anything else as the bird flew down the contours of the butte.
Sig was struggling with the controls right along with me. In fact, it seemed as if we were both trying to pull the controls away from each other.
We finally regained control, and as I regained my breath, I glanced out the window. I was flabbergasted to see the last six feet of the wing standing vertically. I told Sig what I saw, and he looked out the· right window and reported the preposterous fact that the end of other wingwas also bent straight up.

Our ailerons were gone, so turning was a serious problem, but we were still flying. Woody looked at his maps and reported that there was an airfield ahead of us. It was labeled Montford Bridge, and looked good to us.

Fortunately, we were flying lined up with the runway, but I knew that if I dropped the landing gear, we would loose airspeed. I was going to put her down, wheels up on the grass parallel to the runway. I let the bird down slowly, and the wheels projecting from the well smoothly rolled along the grass. We thumped along the grass until we ran across another runway that crossed the main one, and finally came to a stop.

Everybody got out of the plane, and two bottles of brandy were passed around. and. drained. in record. time. The RAF officer on duty in the control tower was quoted as saying, "What bloody new type of plane have the Yanks come up with now!" as our odd-looking silhouette came in for a landing. We did get to Aldermaston by nightfall, but not in a C-47. It was ignominious arrival for an aviator- to arrive at his new base under canvas in·the back of a truck.

Full Crew and passengers
1. Sigurd M. Matson 1st Lt. 43rd Pilot
2. Julius H. Peterson 2nd Lt. 43rd Co-Pilot
3. Woodrow W. White 2nd Lt. 43rd Navigator
4. Donald T. Anstett Sgt. 43rd Crew Chief
5. John F. Cipolla S/Sgt 43rd Radio Op.
6. Oscar W. Hunt Pfc 43rd Ass. Crew Chief
7. William d. McRae 1st Lt. 43rd Intelligence Officer
8. Thomas L. Pugh S/Sgt 43rd Passenger
9. Robert C. Yeckley S/Sgt. Hq.
10. William E. O'Brien Sgt. Hq.
11. Howard W. Tresise Cpl.
12. James J. McCarroll Cpl.