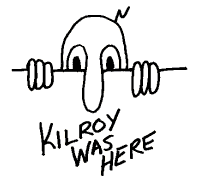 Request for Kilroy Was Here stamp
PETITION to the CITIZENS' STAMP ADVISORY COMMITTEE
for a Kilroy Was Here Commemorative Postage Stamp
We, as citizens of the United States of America, by signing below, request the Citizens' Stamp Advisory Committee of the United States Postal Service to approve the issuance of a Kilroy Was Here commemorative postage stamp.
Kilroy Was Here was with every GI on every combat or occupation assignment during WWII and Korea. The phenomenon continues in The Gulf War, Afghanistan and Iraq. He has been and is the GIs best friend. No matter how bad it got, how dirty, tired, or scared, a GI was, he found that Kilroy had already been there . . . and survived. Ask any veteran! He will tell you how much comfort and fun Kilroy was.
We are losing the Greatest Generation now so very fast. It is estimated that ten to fifteen thousand pass on every day. Now, while there are still some World War II veterans still alive, is the time that the U.S. Postal Service salute the bravery and resolution of the Greatest Generation is by the issuing of a stamp.

Name: Address: Signature:
1.______________________________________________________________________
2. ______________________________________________________________________
3. ______________________________________________________________________
4. ______________________________________________________________________
5. ______________________________________________________________________
6. ______________________________________________________________________
7. ______________________________________________________________________
8. ______________________________________________________________________
9. ______________________________________________________________________
10. _____________________________________________________________________
11. _____________________________________________________________________
12. _____________________________________________________________________
13. _____________________________________________________________________
14. _____________________________________________________________________
15. _____________________________________________________________________
16. _____________________________________________________________________
17. _____________________________________________________________________
18. _____________________________________________________________________
19. _____________________________________________________________________
20. _____________________________________________________________________
21.______________________________________________________________________
22. ______________________________________________________________________
23. ______________________________________________________________________
24. ______________________________________________________________________
25. ______________________________________________________________________
26. ______________________________________________________________________
27. ______________________________________________________________________
28. ______________________________________________________________________
29. ______________________________________________________________________
30. _____________________________________________________________________
31.______________________________________________________________________
32. ______________________________________________________________________
33. ______________________________________________________________________
34. ______________________________________________________________________
35. ______________________________________________________________________
Send the partially or completely filled petition to:
Citizens Stamp Advisory Committee
Stamp Development
US Postal Service
1735 North Lynn Street, Rm. 501
Arlington VA 22209-6432
For more information, contact Editor@KilroyWasHere.org