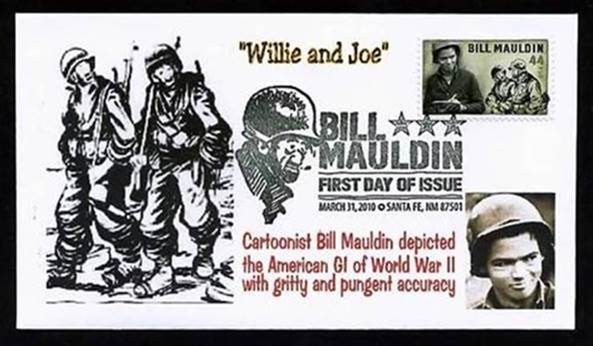 During the late summer of 2002, as Mauldin lay in that California nursing home, some of the old World War II infantry guys caught wind of it. They didn't want Mauldin to go out that way. They thought he should know he was still their hero.

Gordon Dillow, a columnist for the Orange County Register, put out the call in Southern California for people in the area to send their best wishes to Mauldin. I joined Dillow in the effort, helping to spread the appeal nationally, so Bill would not feel so alone. Soon, more than 10,000 cards and letters had arrived at Mauldin's bedside.
. Better than that, old soldiers began to show up just to sit with Mauldin, to let him know that they were there for him, as he, so long ago, had been there for them. So many volunteered to visit Bill that there was a waiting list. Here is how Todd DePastino, in the first paragraph of his wonderful biography of Mauldin, described it:
"Almost every day in the summer and fall of 2002, they came to Park Superior nursing home in Newport Beach, California, to honor Army Sergeant, Technician Third Grade, Bill Mauldin. They came bearing relics of their youth: medals, insignia, photographs, and carefully folded newspaper clippings. Some wore old garrison caps. Others arrived resplendent in uniforms over a half century old. Almost all of them wept as they filed down the corridor like pilgrims fulfilling some long-neglected obligation."
One of the veterans explained to me why it was so important: "You would have to be part of a combat infantry unit to appreciate what moments of relief Bill gave us. You had to be reading a soaking wet Stars and Stripes in a water-filled foxhole and then see one of his cartoons."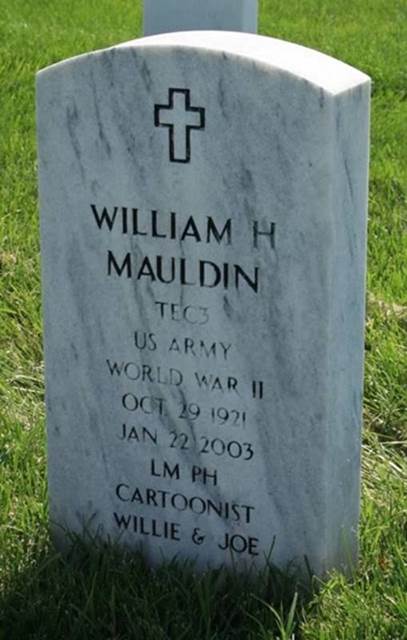 Mauldin is buried in Arlington National Cemetery. Last month, the kid cartoonist made it onto a first-class postage stamp. It's an honor that most generals and admirals never receive.
What Mauldin would have loved most, I believe, is the sight of the two guys who keep him company on that stamp. Take a look at it. There's Willie. There's Joe. And there, to the side, drawing them and smiling that shy, quietly observant smile, is Mauldin himself. With his buddies, right where he belongs. Forever.

What a story, and a fitting tribute to a man and to a time that few of us can still remember. But I say to you youngsters, you must most seriously learn of, and remember with respect, the sufferings and sacrifices of your fathers, grandfathers and great grandfathers in times you cannot ever imagine today with all you have. But the only reason you are free to have it all is because of them!

I thought you would all enjoy reading and seeing this bit of American histor