Keeping the Kilroy Was Here memory alive since 1996


Menu below. Your access a wealth of WWII memories

A Sighting! Kilroy at Chuck E. Cheese
It's shown on a YouTube channel called "Pizzacam." It is titled "September '90". It is called Showtape and is a VHS tape. They were used up until the late '90s.

Mission Accomplished: Stop the Clock
by Muriel P. Engelman

A Book Review
She had a lifetime of interesting people. I feel like I have grown up and old with her. A wonderful read!
Editor's picks from the web 7/24/2016
As editor often get outstanding contributions from readers. They represent hard work of others who share my passion to remember!, I can't put on KilroyWasHere.org but they deserve wider distribution.
Shared by BabaMail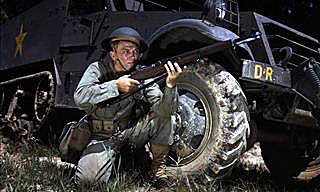 GI in battle
Click the image (http://www.ba-bamail.com)
These WW2 Testimonies Shed New Light on the War... Whether you lived through it, or have spent your whole life in its shadow, few of us can forget the impact the second world war has had on our own lives. How exactly people really experienced the events that happened during that dark time, however, are in danger of being forgotten by succeeding generations.

Volume 12. Searches, Page 1 -- Page 2 -- Where people post search for friends and relatives. If you are interested in any particular subject there is a site search engine on all the main pages.

E-Mail to the Webmaster/Editor

Editor@KilroyWasHere.org

Submit Website Free