Tomorrow, Sunday, July 16, 2017, is the 72nd anniversary of the first ever nuclear explosion.
I remembrance, Amazon and I are doing a promotion by giving away free copies of my book Kilroy Was Here: The Rest of the story; all day Sunday. All we request is that you let me know what you think before the paperback comes out - leave a review!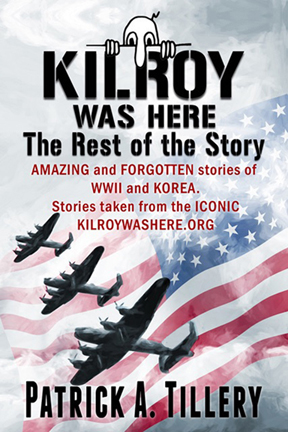 Image of Book Cover
$4.49 Free all day Sunday
Kilroy Was Here:
The Rest of the Story

BROKEN ARROW
(the USAF code name for a lost nuclear weapon). The weapon used at Hiroshima was a mere fifteen kiloton fission bomb. The Mark-15 had a yield of 1.6 to 3.9 Megatons. It was lost in the water near the American coast and has never been found.
Have you heard of the forgotten saint from the Forgotten War? He has received the Medal of Honor and is in line for sainthood.
Have you heard of the London Guns? If Hitler had completed them, they would have lobbed 600 300 pound bombs PER HOUR into London. They never fired a shot but grossly affected world history in ways we will never fully know.
The US mainland has NEVER been bombed from the air . . . right? WRONG! The Japanese did in 1942! Find out the details.
Jimmy Doolittle raided Tokyo early in the war and was saved by a young missionary after he crashed in China. Have you ever heard of him? Yes you have! While on the subject, how about Doolittle's crew chief's sweetheart wings?
Did your grandfather in WWII or Korea ever mention "short arm inspections" but would never tell you what they were? Now you will know more than you really wanted to know about them and why he wouldn't tell you.
Did you know that Boardwalk and Park Place went to war in WWII?
We all suspect that the government has safe places in case of war. One huge one has been exposed within driving distance of Washington, DC. Kilroy was there and has the story of a hidden fallout shelter large enough for all of the Senate and House can meet. They were to be evacuated there along with their staff but not their families. Now you can know where one is but not where the new one is nor where the one for the President and SCOTUS is!
You have heard about Gremlins, Foo Fighters and Lena the Hyena. Do you know The Rest of the story?
Does the name Glyndwr Michael mean anything to you? He should! He died at 34 doing absolutely nothing worthwhile - A wasted life! But, what is the rest of the story? What he did in death made him a hero of WWII!
These are only a few of the amazing stories you will find in this ebook! Just $4.49